---
Pre-Passing Experience
Specialty Funerals first created this service especially for the terminally ill or near end of life to provide a unique and memorable Pre-passing experience.

Enjoy riding up front in our unique Cadillac Hearse now, so you can experience this incredible vehicle first hand, knowing it will be used for your final journey. Photos can be taken of you with the car and we can drive around your local area or to your special place of choice

We have been humbled by the thrill and excitement we have created with this service.

Each persons situation is different, please contact us to plan a special experience for you and your family. Booking arrangements are then made to ensure your wishes are in place for your final ride.

Contact owner and driver, Phillip Smith to discuss this unique opportunity.
Phone: 0439 432 773
---
Fiona's Story
Fiona recently contacted us and advised of her terminal illness, she was planning her funeral.
Fiona loves all things Elvis, rock n roll and classic cars, she wants to book the Cadillac for her final ride. I suggest that we go for a drive in the Cadillac now, and Fiona agrees that's a great idea...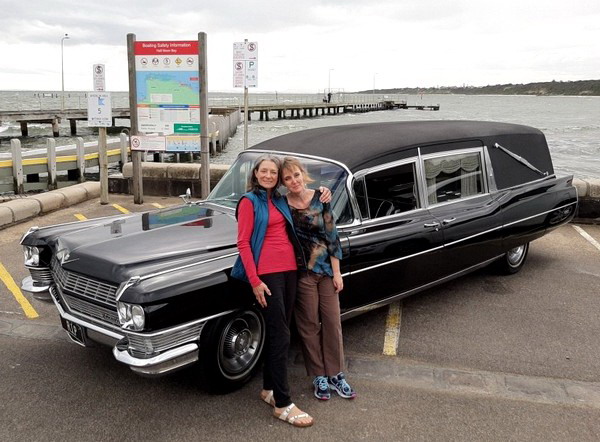 Review for Phillip's Cadillac Drive from Fiona
Phillip offered me an entirely unique experience that I shared with my cousin.
A passion for classic cars urged me to try before you buy, so to speak, so we spent a few hours driving along the coast roads in his Classic Cadillac Hearse.
Bizarre you may say, but having a terminal prognosis I am organising my own funeral and know how I want it to be. So why not enjoy and appreciate this beautiful vehicle with its original intricate interior detail and outrageous body work!
Phillip was a calm, kind and funny host and couldn't do enough to make this a memorable day for me. He shared the history of the coach, we told stories and laughed a lot. The drive was a milestone for me and I treasure the experience.
I highly recommend this opportunity to see Phillip's Classic Caddy as more
than just a funeral coach... Fiona
Thankyou Fiona, we appreciate your kind words and for sharing your story.
Your enthusiasm and positive attitude towards your final time is inspiring.
Phillip Smith - Owner & Hearse driver, Specialty Funerals